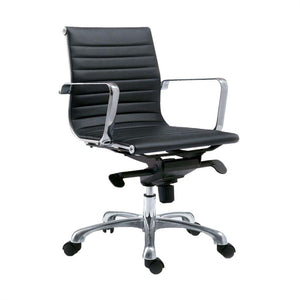 This chair comes with all that you will ever need and want in an office chair.  Moe's Home Furnishings brings you this very chic chair manufactured out of polyurethane providing you ample cushioning while your work.  This smart chair features a synchro-tilt mechanism which provides a 5 position tilt locking so it can easily give you the correct recline for whatever job you are working on.  It also has a high-quality gas lift so the height of the seat can be adjusted.   Polished chrome steel and casters finish off the bottom of this chair.  Can't you just see yourself seated in this chair and being mobile between your different workstations? 
Each chair's dimensions are 22" W X 25" D X 39" H with a seat height of 19-21".
This is a set of two chairs.